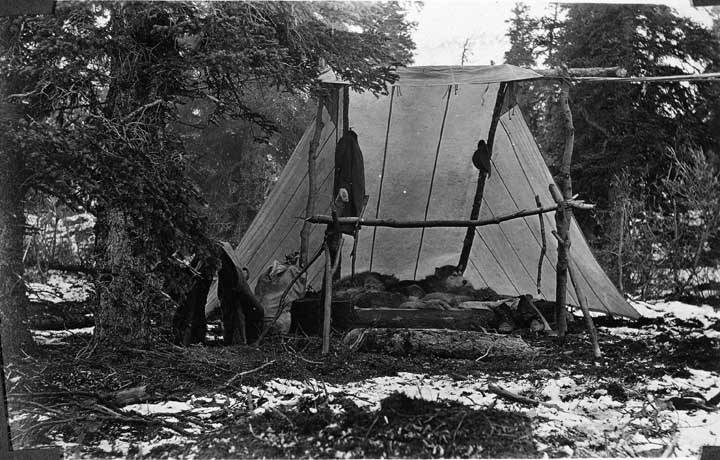 The baker tent, wall tent, and Whelen Lean-to are all synonymous with traditional camping— that golden era of the late 1800s to 1930s when leather and canvas  seemed to propagate the camp scene.
Col. Thompson Whelen, credited with designing the Whelen Lean-to, was a United States Army Colonel, Hunter, outdoorsman, avid writer and designer of the Whelen Sling and Various rifle cartridges.
It is the Whelen Lean-to that is the subject of this article and the question to whether indeed Col Townsend Whelen actually did invent that version of Lean-to, or did he actually ripoff the design.
Our friends over at Masterwoodsman.com have a great article tracing back the history to well before Whelen himself. Here is the article. It's long but worth the read.
———————–
Simply stating that Colonel Townsend Whelen (1877-1961) was just an outdoorsman is like saying that Babe Ruth was just a baseball player. According to the dust jacket flap of On Your Own in the Wilderness (Whelen and Angier), 1958, Whelen wrote his first outdoor magazine article in 1901 and afterward, his work appeared in outdoor magazines almost every month. In fact, one of the last pieces he wrote addressed the subject of this article and appeared in Sports Afield in June of 1961. Whelen was the camping editor of Sports Afield for twenty years, Director of Research and Development at Springfield Armory and commanding officer at Frankfort Arsenal. He was the developer of the Whelen rifle sling, the Whelen lean-to tent and the .35 Whelen rifle cartridge. During his lifetime, he wrote over twenty books and was known as Mr. Rifleman and as the Dean of American Outdoor Writers. To top it off, by all accounts, he was also a genuinely nice guy, with many friends.
Considering the above, and as strange as it may seem, when it comes to classic camping, I was always a little disappointed in the Whelen tent. Don't get me wrong; it is a premier shelter, the pinnacle of lean-to development in fact, and I have weathered cold, sleet, snow and rain in them with ease over the years. My disappointment then, never stemmed from a lack of practicality, but from the fact that the Whelen tent was just too "new". "It was designed by Townsend Whelen in 1925″ (or 1926, depending on the source), so runs the conventional wisdom. This would have still put it in the Golden Age of camping (1880s-1930s), albeit toward the end of the era, but I was more interested in equipment and techniques from the middle period (turn of the century), so my Whelens were relegated to the shelf in favor of a wall tent and awning with all the accoutrements, except of course, when I needed to go classic and go light at the same time.
————————–
For the rest of the article, visit